Accredited Buyer's Representative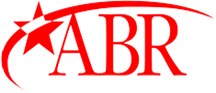 The ABR® Designation: For Real Estate Professionals that Want to Represent the Needs of Homebuyers During the Real Estate Transaction
Th Accredited Buyer's Representative (ABR®) designation is the benchmark of excellence in buyer representation. This coveted designation is awarded by Real Estate Buyer's Agent Council (REBAC) to Realtors® who meet the specified educational and practical experience criteria.
The Accredited Buyer's Representative (ABR®) designation is designed for real estate buyer agents who focus on working directly with buyer-clients. When you decide to earn your ABR®, you gain:
Valuable real estate education that elevates your skills and knowledge in the eyes of home buyers.
Ongoing specialized information, programs and updates that help you stay on top of the issues and trends associated with buyer representation.
Access to members-only benefits such as marketing tools and resources, which provide an additional competitve edge for ABR® designees.
ABR® Member Benfits incude customizable marketing tools, The Home Buyer's Toolkit, Consumer One-Sheets, access to the ABR® Print Shop, the online referral database, a Home Buyer's seminar guide, access to the ABR® designation Facebook App and various print and online information sources.
How can I earn the ABR® Designation?
To attain and use the ABR® designation, agents must successfully pass the ABR® designation course, complete an approved ABR® elective, and document five completed transactions in which they acted as a buyer representative. Membership in REBAC and the National Association of Realtors® is also required. Read more about these requirements.