Strategic Negotiating Specialist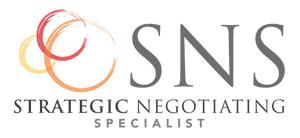 Note: This professional designation or certification is not affiliated with or endorsed by the National Association of REALTORS®.
The Strategic Negotiation Specialist (SNS) course has been specifically designed to give you the tools you need to approach every real estate negotiation with confidence.
Whether we realize it or not, we all negotiate all the time. In addition to negotiating for our clients, we negotiate with our families, our colleagues, vendors and even ourselves. Being a good negotiator requires three things: structure, knowledge of strategies and communication skills. All three are learnable and all are presented in this class.
This one-day course provides information on negotiating from both the buyer's side and the seller's side of the transaction. This information is not only relevant in real estate sales but can also be transferred to any negotiating event.
This class qualifies for four hours elective continuing education credit by the North Carolina Real Estate Commission under the course title Winning at Win-Win.